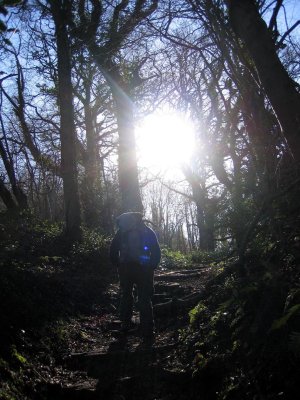 Last Saturday the climbing team went to Shorn Cliff (James, Patrik, Ed and yours truly), in the rainforests of the Wye Valley. It was cold, but very sunny. The friction on the rock was excellent, the climbing terrific, and the views down to the Wye River and Tinter Abbey breathtaking. The above picture was taking by Patrik and shows the approach trough the woods.
James's Wars: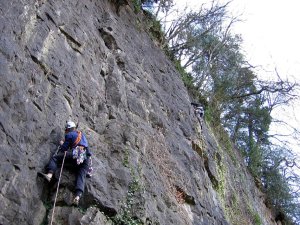 James got his warrior gear ready to tackle two big battles: Phoney War, HS 4b (picture), and War of the Worlds, VS, 4c. Both are beautiful climbs on superb rock with excellent protection, really enjoyable. James's victim was Ed, who had to second both climbs in a sometimes struggling style, with a bit of hangdogging here and there. I also tried War of the Worlds and it was my first lead of the day, I have to say that there are some committing moves at the top of this climb, which I cowardly avoided deviating to an easier line, however, James sent the straight line with great confidence, well done man!
Patrik's commitment: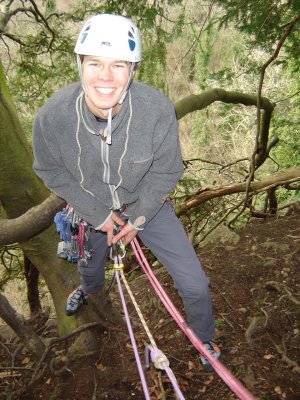 Patrik also had a great climbing day. He flashed Phoney War, his first trad climb! After a lot of hesitation whether to try first some easier climb (like a Vdiff) he finally decided to go for this Hard Severe! He had seconded War of the Worlds previously so this surely felt easy for him, you can see his face full of satisfaction (picture).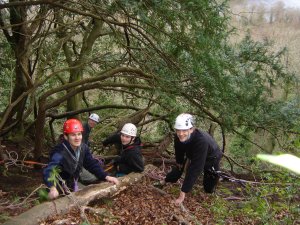 Here's the climbing team after Patrik's and James's successfully sent their hard leads. From left to right: Mario, Patrik, Ed and James.
Rain of Tears:
I also had my hard climb of the day: Tigers don't cry, HVS, 5b. This is a beautiful line and a true Wye Valley classic. My first ever 5b trad! The climb follows a strenuous finger crack, and requires a lot of technical bridging onto small footholds. When I finally managed to get to the top I was crying like a baby, but not from fear but from satisfaction! I never thought I would flash a climb like that! A great route to finish a great day.
Good Bye Abbey: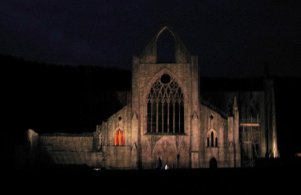 We finished the day knackered but full of satisfaction after our climbing achievements. During our way back to the car park we passed in front of Tintern Abbey, beautifully illuminated and standing out in the dark, a symbol that will be forever linked to Shorn magnificent cliffs.